Ravenswood's boundaries are fluid and difficult to define. Some say it's in Lincoln Square, while others say it's in Lakeview or Uptown. Technically, all are correct, but it's easy to see why other Chicago neighborhoods want to claim this one. With fantastic culinary and arts scenes, Ravenswood is more than just a nightlife destination; it's also a great place to raise a family, a foodie, or a budding creative.
The Loop by train, by car
Merchandise Mart by train, by car
Union Station by train, by car
Millennium Park by train, by car
East to West - Clark Street to Chicago River
North to South - Foster Avenue to Montrose Avenue
Nearby Neighborhoods - Uptown, Lincoln Square, Horner Park, and Andersonville
Attached Home (Condo, Townhouse, Loft, etc.), Single-Family Home
Popular with young couples looking for an urban experience to raise their families, as well as singles drawn to the Lincoln Avenue entertainment strip.
Popular with young couples as well as singles drawn to the Lincoln Avenue entertainment district.
Shopping local in this neighborhood is more than convenient.
Ravenswood thrives on the production of local arts and goods and is teeming with residents pursuing creative endeavors. A stroll down Ravenswood Avenue will reveal a local distillery, a woodworking shop, and several music and theater venues.
A dining scene that offers a wide selection of cuisine.
Sushi and upscale French fare are available, as are gourmet burgers and locally crafted beer and liquor. Ravenswood has become one of the city's dining destinations, with several Michelin-starred restaurants.
A slew of well-known breweries all in one area
Chicagoans absolutely love craft beer, and with so many well-known breweries in one area, you can bet we're making a beeline for Ravenswood.
Despite recent rises in Ravenswood property values, homes and apartments can be found at more affordable rates here than in trendier Chicago neighborhoods like Lakeview or Lincoln Park.
While Ravenswood's historic district has some truly palatial homes, the rest of the neighborhood is considered one of the area's more affordable options due to its proximity to Downtown. Courtyard buildings are most common in the area and offer reasonably priced condos, especially when compared to other North Side neighborhoods. Factory spaces converted into loft-style condominiums are common in Ravenswood, giving the neighborhood's condo options a more unique flavor than its neighbors. If you're willing to spend a little more money, Ravenswood's tree-lined streets are full of single-family homes.
The area is known for its "courtyard-style" residential buildings.
Ravenswood Gardens is the historic eastern subdivision of this area and is home to beautiful, single-family homes and condos with a vintage appeal. El stops on Western Avenue, Damen Avenue, and Montrose Avenue are convenient to Ravenswood residents on the southern end of the neighborhood, while residents farther north enjoy living near beautiful Winnemac Park.
While Ravenswood isn't the closest neighborhood to Downtown, it does have one major advantage: the Metra commuter rail runs right through it, making the ride to the Loop quick and easy. Additionally, for those looking to travel more locally, the Brown Line and Red Line trains serve the Ravenswood area. Ravenswood is also a car-friendly neighborhood, with plenty of free street parking. And what about that mentioned distance from Downtown? It also reduces traffic congestion in the area.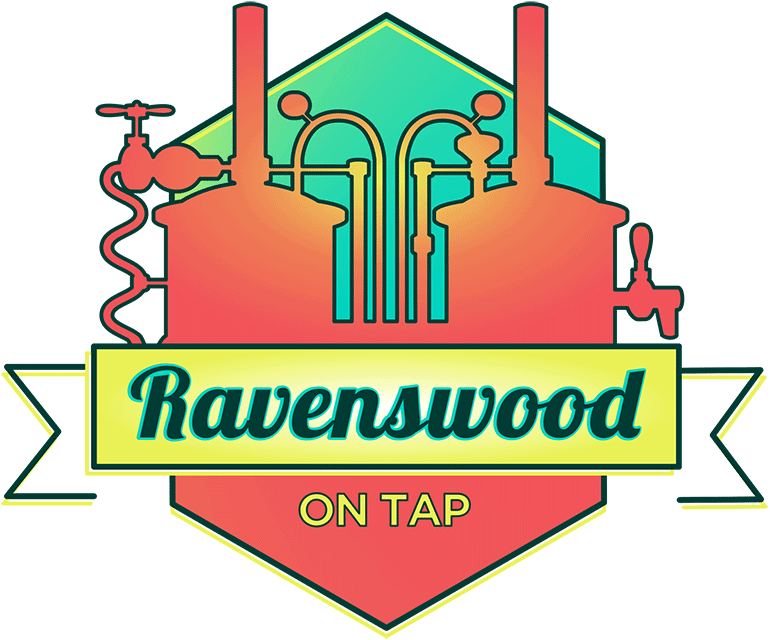 Craft beer and spirits, food from some of Chicago's best food trucks, live music, goods from local retailers and artists, and street games are all part of this outdoor tasting festival.

The Greater Ravenswood Chamber of Commerce hosts the event, which takes place in June at Ravenswood and Berteau. Donations help the Ravenswood Community Council and the Bowmanville Community Organization carry out their missions.